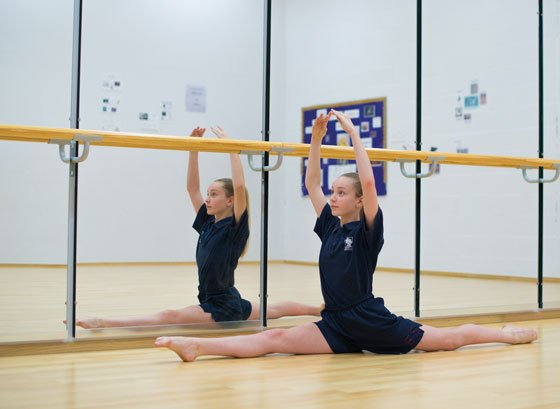 The performing arts faculty comprises of drama, dance and music. The Faculty has a very busy calendar with many activities going on within the school day and during the evenings.
Drama
In the Drama department we believe creativity and imagination develops a student's critical thinking skills and the ability to appreciate and differentiate and make informed judgements which in turn leads to creative thinking, confidence and problem solving – all skills which are prized by employers and which young people need.
The staff love to see their students succeed and have high expectations that each will do well according to his or her abilities therefore Drama is an important part of the curriculum. Drama is taught in mixed ability classes in Years 7 – 9, where we encourage students to develop lively, creative enquiring and independent minds, to develop self-esteem and confidence, experience opportunities for personal growth and develop the skills and enthusiasm for lifelong learning. The students can further develop these skills at GCSE where students develop a deeper understanding of dramatic techniques and technical components that will enhance their skills still further.
At A Level we offer Drama and Theatre Studies which examines all aspects of Theatre from Technical Elements, Stage Design and Performance components in a practical and theoretical course which intellectually challenges students offering them the same cognitive stretch of the most traditional subjects.
As part of the Performing Arts faculty Drama regularly offers extracurricular opportunities in the form of concerts, showcases and productions that energises the relationships between the school, its students and their community.
Dance
Dance is studied in the three strands of Performance, Composition and Appreciation Allowing students to improve their physical ability, stamina and dance skills through practical participation in different dance styles. Students have the opportunity to perform as a soloist, and as part of a group. Dance gives students confidence and expression, understanding a deeper value of a healthy lifestyle and expressive ability. We also offer a variety of extra-curricular dance clubs across all years, community outreach and performances to further enrich our students' experience of dance.
Year 7 & 8
One lesson a fortnight in Years 7 and 8, where students explore different dance styles (street and contemporary), building knowledge of choreographic terminology through practical tasks.
Year 9
Students study dance once a week as part of a foundation year into GCSE, they are taught choreographic process through contemporary dance, contact and physical theatre styles, look closely at professional choreographers as a source of inspiration for choreographic outcomes.
GCSE & A Level
Performance – the skills necessary to perform successfully as part of group or a soloist learning how to improve their performance techniques.
Choreography – how to create movement from a stimulus, how to develop and structure it into a coherent piece of work either from a stimulus or inspired from a professional choreographer.
Appreciation – studying dances and appreciating what makes them successful, studying various professional dances interpreting their themes, movement, lighting, costume and design.
Music
Singing, composing with specialist software or learning to play an instrument; using DJ-ing equipment or perhaps taking part in a Japanese Taiko Drum workshop or concert performance. These are all activities that are possible through studying and getting involved in music, and at Nobel School, music is actively taught to all students in mixed ability classes in Years 7-9. Students are engaged in learning about many types of music through Listening, Performing and Composing and using a variety of resources. In each year of KS3 pupils are given opportunities to learn about musical conventions and styles,
Students are encouraged to draw upon their own musical references to aid creativity, as well as develop awareness of unfamiliar music from other times and places. There are several extra-curricular clubs for students to participate in too.
Music is also taught at GCSE level where 75% of assessment is based around practical tasks. At KS5 we offer Music at AS and A2 level for students who wish to combine academic and practical musical study. September 2013 also sees the music department enter a partnership with Barnwell School that allows us to offer a BTEC course in Music Technology with an emphasis on production and recording.