head-about-school
It is a great privilege to be the Head of this lovely school. Through support and challenge, every student is able to enjoy their learning and reach their full potential.
In April 2014, Ofsted confirmed us as 'good' in all categories; we now intend to be 'outstanding' at our next inspection. It is a very exciting time to be a Nobelian and we warmly invite prospective students and parents to our Open Evening on 4 October 2016. During the evening, you will be able to meet staff, students, governors and parents. You will be able to collect a prospectus, and will have a student guide to help you enjoy the opportunity to tour the school and to take part in a range of activities designed to give you a flavour of the learning and teaching at Nobel. The Headteacher will speak at 6:30, 7:15 and 8:00pm. Entry to the Headteacher's talks will be by ticket on a first come, first served basis.
Please note that there is no parking at the school and we recommend strongly that as many people as possible walk to school. In particular we ask that visitors should not block the drive-ways and entrances of nearby houses.
To minimise disruption to learning we are unable to offer daytime tours.
Martyn Henson
Headteacher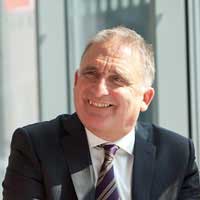 Under the strong and decisive leadership of the headteacher, students' achievement is sharply rising

Ofsted 2014
Head's Speech