The contemporary landscaped sports complex includes excellent indoor changing rooms which are accessible both from indoors and from outside. Outside we have bench seating and tables, table tennis tables, a climbing wall, running track, netball courts and meeting areas all located at the rear of the complex.
Sports Hall
Our spacious sports hall caters for a variety of sports including basketball, football, futsal, volleyball, netball, badminton and cricket. It is located within the sports complex and opens on to an outdoor area with tables and bench seating.
Suitable For:
Badminton – 4 courts
Indoor cricket – 4 nets
Basketball – 3 small courts
Basketball – 1 full size court
Indoor football (posts and nets)
Features:
Teal coloured walls
Large basketball counter clock
Clock
Lights: lux levels 700
Floor: beech finish sprung floor
Fitted with soundboards
Dance Studio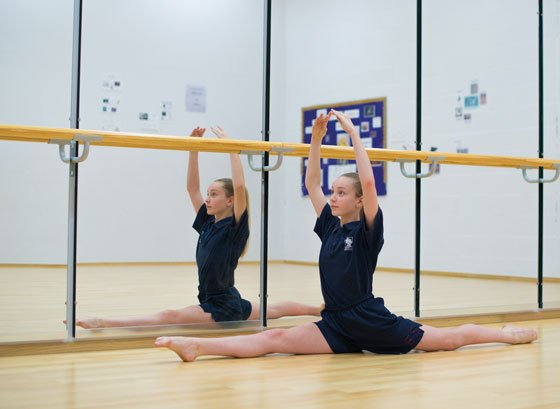 The dance studio has a beach finish sprung floor, balance bar, mirrored wall and a sound system ideal for fitness clubs and smaller clubs or dance groups that require a smaller space to work in.
Equipment and Features:
Astro Turf
Our large sand-filled astro turf has 8 flood lights and offers an elevena-side and 3 five-a-side, goal posts and football pitches, as well as a full size hockey pitch, suitable for a wide range of grass based sports. The hire of this area includes the use of excellent changing facilities and showers with both large and small lockers available for hire.
Suitable For:
Football – 1 eleven-a-side pitch
Football – 3 five-a-side pitches
Hockey – 1 full-sized pitch
Equipment and Features:
2 eleven-a-side goal posts with nets
6 five-a-side goal post with nets
2 hockey goals
8 flood lights
Gymnasium
The gymnasium has a beech finish sprung floor and is fully equipped with wall bars and a sound system, perfect for fitness clubs or sporting clubs who require a medium size space to work out in.
Equipment and Features:
Sound system
Climbing ropes
Benches
Wall apparatus
Trolley of mats
If you would like to get involved or would like to enquire about hiring space, please contact lewis.rogers@nobel.herts.sch.uk & nobelvenues@nobel.herts.sch.uk