Our Aim
The common goal of the Science Department at Nobel is to develop the students' curiosity of the natural world; to develop a deeper understanding of the science of the future; to encourage tomorrow's scientists. We believe that an emphasis on practical work within lesson time not only engages students' interest, but also reinforces independent learning skills.  These skills are underpinned through practical work, investigations, research and discussion, helping all students to progress and flourish. We endeavour to give full access to the Science curriculum for all pupils up to GCSE level, regardless of their gender, ability or background.
"

Science and everyday life cannot and should not be separated.

"
Our Department
We have ten specialist science laboratories.
We also have a laptop and I-pad trolley for use throughout the department and a range of specialist equipment for practical use. Our team of 15 specialist Science teachers have passion, enthusiasm and flair. If at the end of a lesson our students are asking more questions than at the beginning, then we have achieved our goal!
Our Courses
In Years 7-8 science is taught as general science using our own schemes of work which we have devised to stimulate the imagination. We teach in a variety of different styles to help students develop skills that will be useful to them throughout their school career. We aim to reinforce and make links with other areas of their curriculum and build on their experiences in primary school. Students are taught in mixed ability groups before being put into sets in Year 8.
In Year 9 students complete the national curriculum and then prepare for and start their GCSE studies. We will recommend the right pathway for each individual student. These are Triple or Combined Science.

All continue the GCSE course into Years 10 and 11 by follow the AQA Specification for Triple or Combined (Trilogy) Science resulting in 3 or 2 GCSEs respectively.
At key stage 5 we have highly skilled specialist teachers, with subject specific qualities, who deliver A levels in Biology, Chemistry and Physics and a CTEC in Applied Science.
"

Somewhere, something incredible is waiting to be known.

"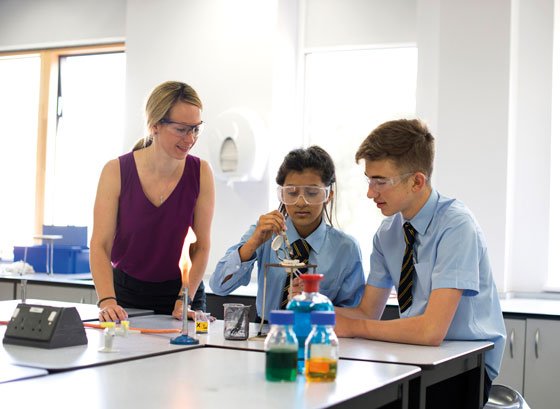 Enrichment Opportunities
It is through the vast range of extra-curricular opportunities we offer that Nobel science department demonstrates its passion for learning! We have organised trips to CERN in Switzerland, London to watch eminent speakers for A-level students, visited GSK and Astrium, competed and won Engineering and Big Bang Fair Awards and had the opportunity to take part in Salters Chemistry Camps.  All students that show an interest in science will be encouraged to attend extra-curricular clubs and events and we aim to be as inclusive as possible in our selection of students.
Sex Education
Sex education is taught as part of the Science curriculum and RSHE. We believe that all young people are entitled to responsible and relevant sex education and that successful adulthood includes the understanding and constructive use of sexuality. Our sex education programme promotes the understanding of sexual attitudes, responsible behaviour and the development of informed, reasoned and responsible decisions. Parents have the right to withdraw students from certain modules. A copy of the school's policy is available here.
Long Term Plans
Click the links below to view PDFs
Applied Science