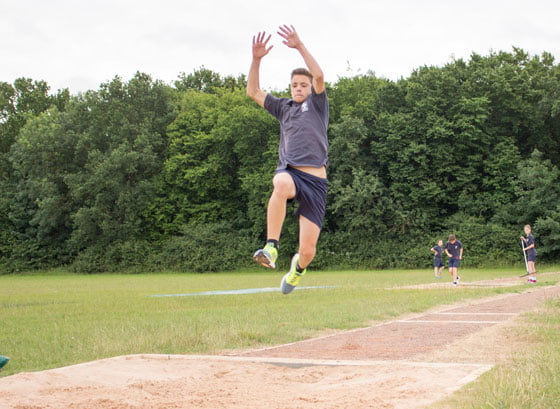 Physical Education department is a thriving department offering a wide range of activities in all key stages. In years 7, 8 and 9 we offer a wide range of invasion activities such as football, rugby, basketball, hockey, netball. We also offer striking activities such as cricket, rounders and softball; net games such as badminton and tennis and finally aesthetic activities such as trampolining and gymnastics.
The department also has a fitness suite where the students can learn how to use modern fitness equipment such as treadmills and free weights (key stage 4 and 5 only).
The sports hall is a new facility which gives us the flexibility to introduce new activities and also helps the school establish close links with governing body clubs. The department has also been able to offer activities out of school such as archery, fencing and zumba classes.
The Physical Education department runs the following examined courses at level 2 – GCSE and Extended certificate in BTEC in sport. At level 3 we offer advanced subsidiary in sport. Through the BTEC courses at level 2/3 we offer leadership units which helps develop our students' interpersonal and team leadership skills.
In terms of extra-curricular provision the department runs an extensive programme over which 500 students have attended weekly throughout the year. The clubs offered were as follows – archery, badminton, table tennis, football (boys and girls), rugby (boys and girls), cricket (indoors and outdoors), athletics (indoors and outdoors), cross country, rounders, fitness, tennis, gymnastics and trampolining.
Long Term Plans
Click the links below to view PDFs